The Council has allotments at four sites:
Canalside;
Railwayside;
Cape Housing;
Percy Estate.
These are shown on the map below, identified by the number against them in the list above. Click on the map to view a larger version.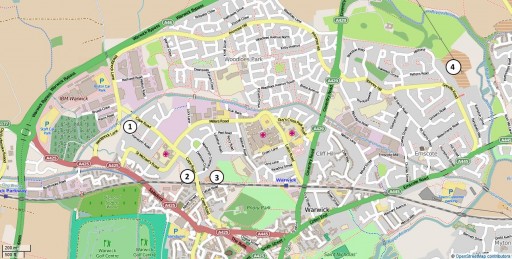 Allotments are available for residents of Warwick, CV34 postcode only. It should be noted that any plot holder that moves out of the CV34 area that they will be required to relinquish their Plot and it will be allocated to the next person on the waiting list.
There is a waiting list on all sites but there has been recent movement.
If you wish to apply for an allotment then please download and fill in the application form, or alternatively contact the Visitor Centre.
Allotment Awards for 2016.
Well done all there were some beautiful examples of lots of different Allotments styles.
Here are the winners and this year there will be a joint celebration with the Warwick in Bloom Award winners on Monday 26 September in the Ballroom at the Court House, Jury Street. 6.30pm for a 7.00pm start.